Thursday, April 10, 2014 at 11:38PM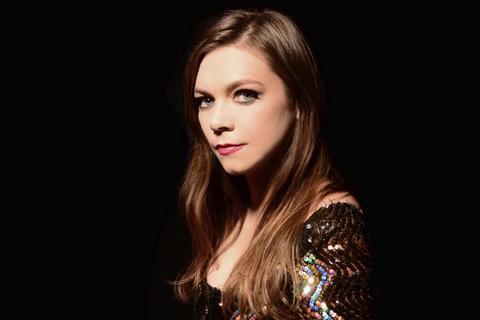 Jocie Adams took the stage quietly. Well, as quietly as someone in a gold-sequined jumpsuit can anyway. Adams, best known for her work in the Low Anthem, saddled up to a piano tucked in the corner and began playing. A classically trained composer, Adams glissaded through a delicate, dream-like passage. She was soon joined on stage by pianist Zach Tenorio-Miller, who leaned over her shoulders and accompanied the piece with both hands. The pair strung together gorgeous, dramatic lines. It was a creative and altogether enchanting opening, and Arc Iris was just getting warmed up.
Soon a menagerie of musicians joined the pair on stage, colored lights reflecting off the band's multi-faced outfits. Boasting a cellist, a double-bassist, a trumpeter, a trombonist and pedal-steel player, and a drummer, the band blossomed into a miniature orchestra, a group capable of delivering elements of classical, jazz, folk, country, and big-band, seemingly all on the same song.
Arc Iris ran through numbers from their debut self-titled album - an album completed some 18 months ago. ("That's a long time," Tenorio-Miller shrugged bemusedly.) It's an album that refuses to be tied down. They sounded lively on"Singing So Sweetly", a jazzy number that highlighted Adams' vocal versatility over plinky piano keys and affected trumpet-playing. "Powder Train" may be the only song about cocaine that features a cello, oweing elements to country and knowing winks from Harry Nilsson. The group sounded equally adept with doo-wop ("Ditch") and Dirty Projectors-like upper-register harmonies.

At turns vulnerable and self-assured, playful but sincere, Arc Iris practices a certain kind of alchemy. Adams and co. take seemingly disparate musical elements and meld them with sneakily poignant songwriting to form an intoxicating concoction of memorable, magical musicality. The live show and the terrific album are both well-executed experiments well worth your time.
| | | | | | |
| --- | --- | --- | --- | --- | --- |
| Date | Venue | Location | Tickets | | |
| | | | | | |
| | | | | | |
| | | | | | |
| | | | | | |
| | | | | | |
| | | | | | |
| | | | | | |
| | | | | | |
| | | | | | |
| | | | | | |
| | | | | | |
| | | | | | |
| | | | | | |
| | | | | | |
| | | | | | |
| | | | | | |
| | | | | | |
| | | | | | |
| | | | | | |
| | | | | | |
| | | | | | |
Comments Off
| |
tagged

Arc Iris,

The Low Anthem
in

Brian